Sustainable Networks
In a digitized environment, people, objects, and machines are connected to one another. These networks also open up new areas of application that promote sustainability. They make household appliances and vehicles more efficient, and make it easier to use renewable sources of energy reliably. Bosch is making an active contribution to shaping this development with innovative solutions in all of its business sectors. These allow value creation while at the same time conserving natural resources.
Digital technologies are already changing our everyday lives. Internet connectivity enables a multitude of innovative products and services that bring forth opportunities and challenges alike. Bosch aims to contribute to actively shaping the transition to a connected world and harness its potential in the best possible manner. To this end, the company draws on its decades of expertise in the automotive, energy, building, and industrial technology sectors. Today, Bosch is one of a handful of technology companies around the world that are capable of offering connected solutions from a single source. 
With its engines, household appliances, or heating systems, the company not only provides traditional hardware, but also offers its customers the very sensors and software that make the internet of things (IoT) possible. What is more, Bosch has launched its own cloud for IoT solutions that will soon also be available to its customers, and the company is consistently expanding its portfolio of networked services with the aim of improving the quality of life of current and future generations. It is doing this in every sphere, from day-to-day life and road traffic to a climate-friendly energy supply.

Growth through integration

Creating the right service package for every product opens up myriad growth opportunities in every field of business. Of some 59,000 Bosch researchers working around the world, about a third are active in software development, and more than 3,000 focus their efforts on the internet of things. Since this dynamic market shows great promise for the future, Bosch has set up agile business units to respond to its fastchanging requirements. For instance, at the beginning of 2016, the companycreated a subsidiary for smart home solutions. As a leading full-range provider of innovative technologies, Bosch has secured its long-term growth while at the same time creating attractive jobs for highly qualified specialists. Here, too, connected products and services are the basis of the company's activities. The following three examples illustrate how Bosch is contributing toward achieving major sustainability goals.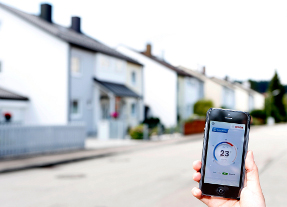 Photo: BOSCH Group
Saving energy with smart homes

Bosch is working flat out to drive the development of the smart connected house forward. By 2020, 230 million households around the world are expected to be equipped with smart building technology – representing a market share of 15 percent. With a smart home system, users can connect lighting, smoke detectors, and household appliances to one another via a central control system, which they can then manage remotely using their smartphones or tablets. In the morning, a self-regulating heating thermostat ensures a comfortable room temperature while reducing energy consumption at night or when homeowners are away. What is more, via the Home-Com Pro web portal, Bosch technicians can connect directly to their customers' heating systems to gain a quick overview of status, give advice in the event of a malfunction, or prevent unnecessarily high energy consumption.

Connected mobility: More comfort, less fuel consumption

Studies have shown that the search for a parking spot accounts for a third of urban traffic. Looking for parking is not only nerve-wracking, it also leads to higher fuel consumption. Against this backdrop, in 2016 Bosch launched a pilot project in metropolitan Stuttgart. To reduce road traffic and protect the environment, the company monitors 15 park-and-ride facilities with sensors to assess whether parking spots are vacant or occupied. The data is then transmitted to the internet via the IoT cloud, where a map of free parking spots is created in real time. All information can be accessed via an app or the website of the Stuttgart public transit authority (VVS).

Bosch is also currently working with partners to put another connected mobility concept into practice: With a digital mobility assistant, users can determine their optimal route with different modes of transport – including transfers to e-bikes, buses, and trains. The aim is to reduce traffic jams and CO2 emissions and increase users' willingness to leave their cars at home more often. With this joint project, the participating companies won the Baden-Württemberg Ministry of Transport and Infrastructure's "moveBW" competition.

Smart energy networks: Flexible use of wind and sun

Flexible use of wind and sun Intelligent energy management is gaining significance. The large power stations of the past are giving way to many smaller, decentralized facilities. Many of these use wind or solar power. The challenge lies in integrating these small power stations into the grid in such a manner that the power supply is consistently reliable regardless of weather fluctuations. Bosch has developed the technology required to do this, and networking plays a central role here as well. The company provides energy suppliers with software that can be used to create virtual power stations out of a combination of various power generation and storage facilities.

Among other things, these examples clearly show that connected products and services help conserve finite resources – and thus also contribute to achieving important sustainability targets.

The Bosch Group
The Bosch Group is a leading global supplier of technology and services. It employs roughly 390,000 associates worldwide (as of December 31, 2016). Its operations are divided into four business sectors: Mobility Solutions, Industrial Technology, Consumer Goods, and Energy and Building Technology. The Bosch Group comprises Robert Bosch GmbH and its roughly 450 subsidiaries and regional companies in some 60 countries.