ACCIONA Exports Sustainability
ACCIONA's business model is tightly linked to sustainability. That is the philosophy ACCIONA takes to every country where it does business in its firm commitment to local communities and environmental friendliness. Now the company is going a step further. ACCIONA's 2015 Sustainability Master Plan states that each new international project must be backed up by a social impact assessment. The point is to ensure respectful and efficient interaction with local communities, mitigate risks, and improve the company's relationships with the communities where it operates. As a flagship of ACCIONA's commitment to the local residents of project areas, one could do no better than to look to the Mexican state of Oaxaca, where the company has four wind farms, and to Brisbane, Australia, where ACCIONA is participating in the construction and operation of the Legacy Way Tunnel.
ACCIONA's social initiatives are adapted to local needs, but they all shared a common denominator: Everything was done based on a thorough knowledge of the communities in question and on the search for ongoing dialogue with local residents in order to contribute to community development

ACCIONA México: A model of involvement with local communities
Oaxaca is one of the least-developed states in Mexico. However, the region of the Isthmus of Tehuantepec, in Oaxaca, has terrific wind potential. ACCIONA Energía has four wind farms in the region (a total of 556 MW, enough power to satisfy the needs of 1,300,000 homes), and has more renewable energy capacity installed than any other company in Mexico.
As part of its Sustainability Master Plan, when ACCIONA set up shop in Oaxaca, it shouldered a commitment with local communities to manage the social impacts of its business responsibly. But how could it apply that philosophy effectively to real life in Oaxaca? 
The first thing that sets ACCIONA's social responsibility initiatives apart is that they are based on regular studies of target populations' needs. Using the findings from consultations, the company has undertaken a series of actions organized according to a scheme called the Social Action Plan, which aims to align ACCIONA's social contribution with local needs.
For instance, in the health area, ACCIONA is cooperating with the Mexican Foundation for Family Planning and the Secretary of Health for the State of Oaxaca in campaigns to prevent and detect cervical and uterine cancer in women, and prostate cancer in men and to avoid unwanted pregnancies and HIV transmission in teens and young adults. 
A landmark in ACCIONA's social contribution in the Isthmus of Tehuantepec is the Eco-efficient Community Centre. The center was built according to the principles of bioclimatic architecture, so it is energetically sustainable. It serves as a multiple use venue for health talks and workshops that ACCIONA organizes in cooperation with the Mexican Foundation for Family Planning. 
ACCIONA's environmental commitment was also embodied in reforestation campaigns, through which more than 150 hectares of lowland forest were replanted in cooperation with the National Commission for Protected Natural Areas.
ACCIONA is also working to promote education as a basic right. The company provides scholarships at various levels of the educational system for budding engineers and specialists in wind energy. It also equips local women with tools for self-employment, as with the Huipil Clothes Embroidery Workshop; after the workshop, the company advises participants on how to market their handiwork.
ACCIONA is helping to refurbish several rural schools and provide them with the latest technologies, as well as educating kids in ecosystems and biodiversity awareness and behavioural best practices through its Sustainability Workshop, which this year provided sustainability education support for 2,000 students, who also visited the substations and wind farms ACCIONA has in their region.
This kind of involvement in local communities is one of ACCIONA's trademarks. Another good example of the company's community commitment in Latin America is the case of Copiapó, in the desert of Atacama, Chile, where ACCIONA has built – and is running – a desalination plant that provides water for local mines and neighboring towns. The company is engaged in activities there such as education support, fostering of the "water culture," environmental protection, and waste collection. For example, in 2013 ACCIONA worked with local municipal school libraries to hand out more than 350 books for World Water Day. In addition, the company lent a hand to clean up the fantastic boulder-strewn area known as the "Stone Zoo," and it participated in the seafloor clean-up campaign organized by the area's Marine Authority at the Bahía de Caldera quay by providing the equipment for the people tasked with rubbish collection.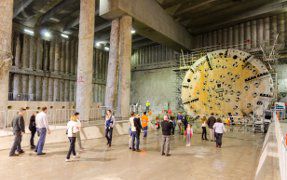 Legacy Way Tunnel in the Australian city of Brisbane
Photo: ACCIONA
Australia: Spanish company sets an example in the Antipodes
As part of the Transcity consortium in 2010, ACCIONA was selected to build the Legacy Way Tunnel in the Australian city of Brisbane. The project consisted of designing and building the tunnel and operating it for 10 years. This is a twin-bore tunnel with two lanes in each tube, running beneath the surface at a depth of up to 40 meters. Each tube is 4.3 kilometers long and approximately 12 meters in diameter.
Right from the start, the people who drew up the project and its attendant job-planning work factored in the need to respect the mobility needs of public transport, private vehicles, and pedestrians, and to blend the project into the city with a design that would conserve and highlight the importance of the neighboring Mount Coot-tha Botanic Gardens.
The tunnel is a major piece of infrastructure, so ACCIONA also incorporated an action plan that not only is minimizing the dreaded nuisances usually inherent in construction work, but is also actually turning the impact into something positive that benefits local residents.
The basis for succeeding at this kind of challenge is to keep up extremely fluid dialogue, organized in the form of regular meetings with the representatives of the nearly three thousand inhabitants of the area nearby and one-off information campaigns run door to door, by personal phone calls, and by letters. In addition,
residents have a 24-hour hotline to call in their questions, and a Visitors' Centre with personal service representatives, where local people can use interactive systems to see works progress, 3-D models
of what the final result will look like, a simulator showing what working in a tunnel-boring machine is like, amongst others. A number of entertainment activities have been established as well, such as outdoor cinema shows, community barbeques, and open-house opportunities, in the effort to thank residents for their patience in the face of possible inconveniences.
But informing local residents and listening to their concerns is not enough. The company's commitment to local communities requires it to make a real effort to minimize environmental impacts and the inconveniences construction creates, such as noise and vibrations. To do this, the company has made its R&D structure available to the project. This has enabled some innovative solutions to be introduced, such as an in-tunnel transport system that reduces the amount of truck traffic on the surface, thus creating less
noise and dust and avoiding 190,946 metric tons of CO2 emissions. A special acoustic shed has been set up, too, to reduce noise at the tunnel mouths, and a new mix of cement has been used that minimizes transport of goods and reduces environmental impacts.
In addition, the consortium is building a 4-hectare expansion of Mount Coot-tha Botanic Gardens; it will replant the forested areas affected by the project, and it will plant more than 2,000 trees of native woods in the Simpsons Falls area.

| | |
| --- | --- |
| Initiator | ACCIONA |
| Project start | 2010 |
| Status | ongoing |
| Region | Mexico |
| Contact person | Juan Ramón Silva |
| Awards | - |
| | |
| --- | --- |
| Anti-Corruption | - |
| Business & Peace | - |
| Development | X |
| Environment | - |
| Financial Markets | - |
| Implementing UNGC Principles in your Corporate CSR Management | - |
| Human Rights | - |
| Labour Standards | - |
| Local Networks | - |
| | |
| --- | --- |
| Advocacy of global issues | - |
| Business opportunities in low income communities/countries | - |
| Project funding | - |
| Provision of goods | X |
| Provision of services/personal | - |
| Standards and guidelines development | - |