The Bank Everyone Can Trust and Rely On
AYA Bank has strived to become a "trusted partner" for everyone in the community and all its stakeholders, as its slogan indicates. To effectively become a partner that everyone trusts, AYA Bank believes in committing to the Ten Principles of the United Nations Global Compact as part of its strategy and practice, focusing on fulfilling its corporate social responsibilities to the community it serves.

At AYA Bank, the slogan "Your Trusted Partner" is a value that everyone at the Bank holds. Since its inception in 2010, the Bank has strived to be a trusted partner that everyone in the community can rely on – not only to fulfill their banking needs, but also to be a positive force in the community it serves.

To help enforce its commitments to the community as a whole, AYA Bank became a participant of the UNGC in 2012 and has been incorporating the Ten Principles of the UNGC into its operations and strategies since then. AYA Bank, working together with Ayeyarwady Foundation, which fronts the Bank's corporate social responsibility (CSR) activities, initially focused mainly on the healthcare and education sectors. Moving forward, the Bank plans to achieve and fulfill as many of the Ten Principles as possible.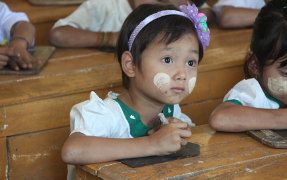 Photo: AYA Bank
Encouraging the youths
The youths of today are the future leaders of tomorrow. AYA Bank believes it is important to educate them about the importance of utilizing banking and financial services in this stage of their lives.

To encourage this, AYA Bank started a campaign to reach out to university students. AYA Bank works with several universities across the country and sponsors university student cards, which are also used as ATM cards. This promotes cashless transactions and also allows the students to contribute to the economy as a whole, since the banking sector is fundamental to a country's economy.

AYA Bank has worked with five universities in 2013 / 2014, producing a total of 1,944 student cards, which cost more than 6 million Myanmar kyats in total. The Bank plans to continue to reach out to more universities. In addition to promoting the use of banking and financial services, AYA Bank sets up booths in the respective universities to allow students to apply for other services.

Enhancing lives – Improving the education sector
Education has always been important. AYA Bank, in its own capacity, attempts to fulfill one aspect of the UNGC Principles on Human Rights by ensuring that people have the opportunity to learn. The Bank's CSR activities – supported by the Ayeyarwady Foundation – in the education sector include building and donating to schools across the country; offering educational scholarships; and building and donating libraries to encourage reading.
Health is wealth – CSR activities in the healthcare sector
In March 2011, Ayeyarwady Bank – together with its parent company, Max (Myanmar) Group of Companies, and the Ayeyarwady Foundation – donated a 550-bed pediatric hospital in Yangon. To ensure that the cleanliness of the hospital is well-maintained, members of AYA Bank's workforce volunteer at the hospital grounds and engage in weekly cleaning activity. AYA Bank also works with the Foundation to reach out to the needy in the healthcare sector, such as with financial contributions.
Ayeyarwady Foundation
Apart from contributing to the activities of Ayeyarwady Foundation, AYA Bank also places Foundation donation boxes in all of its branches nationwide. This allows our customers to contribute to the activities of the Foundation that reach out to the needy. This activity was started in July 2013 and, to date, more than 3 million Myanmar kyats have been received in donations. In the years to come, AYA Bank will further improve the channels for donations by giving customers who wish to donate to the Foundation the ability to use the Bank's ATMs.

As part of our initiative to improve the healthcare sector, Ayeyarwady Foundation has also donated a total of MMK 300 Mil (up to date) for medical treatments for the under-privileged patients at the Cardiology Ward. Costly surgeries and operations for more than 50 patients have been carried out with the support of Ayeyarwady Foundation since the opening of the new Cardiology Ward.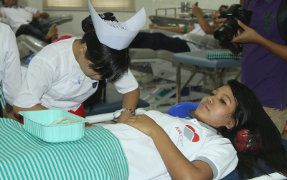 Photos: AYA Bank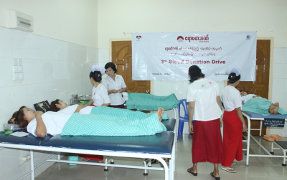 Give Blood, Give Life – AYA Bank actively participates in annual blood donation drives and organized the Third Blood Donation Drive in Yangon, in conjunction with the Bank's third anniversary. At the Third Blood Donation Drive, there were 120 successful staff donors who donated their blood to the Yangon National Blood Bank. As the event unfolded at the National Blood Bank, many passers by stepped forward and expressed their interest in being part of the event and donating their blood. Many joined together to share the joy of giving at the Third blood Donation Drive. To better cater to the need for blood across the country, AYA Bank plans to not only hold and organize such donation drives in Yangon, but also in other regions where blood banks are available.
Caring beyond the healthcare and education sectors
Many internal conflicts in the country pose threats to the many who have lost their homes and loved ones in the midst of these conflicts. One such situation is the conflict in Rakhine State, which has killed many and left many homeless. AYA Bank has stepped forward and provided funds to help them rebuild their homes and their lives. Similarly, AYA Bank is also reaching out to other conflict-affected areas, such as Kachin State.

Additionally, AYA Bank is also supporting those who are affected by natural disasters such as floods and fires.

Job creation
The Bank has been expanding rapidly. In just over three years of operation, the Bank has a 65-branch network across the country as of March 2014. Many jobs are created nationwide as a result – from entry to managerial level – and the number of employees has risen tremendously, from 1,700 in 2012 to 2,600 in 2013.
AYA Bank is becoming environmentally-friendly
We at AYA Bank feel that it is not enough to just contribute to the education and healthcare sectors. We are also planning to become more environmentally-friendly. Apart from using energy-saving lights and reducing paper usage by relying more on electronic communication, we feel that we need to do more. Our planned initiatives include setting up more environmentally- friendly branches, which will also encourage our customers to become part of the initiative. The CSR team of the Bank is currently in negotiations with the respective City Development Councils about waste-management initiatives.

"AYA Bank is invaluable to us"
AYA Bank spoke to Dr. Thida Aung (in charge of the National Blood Center) on AYA Bank's Blood Donation activities: 
"The National Blood Bank provides between 40,000 – 45,000 units of blood every year, with about 83.5 percent coming from donors. For cases where the patients require a blood type that is not available immediately, the blood bank keeps a list of previous donors with their respective blood types and source for donors.
AYA Bank has actively carried out blood donation drives, and this is invaluable to us – their activities not only help to provide blood to those who are in need, but their enthusiasm also acts as a source of motivation to the others.
I'd like to sincerely request to all those who are gifted with good health to help – in any way possible – those who are less fortunate. I also hope that AYA Bank continues such activities in the future." 
Daw Thida Aung, M.B.B.S, M.Med.Sc, PhD Patho. Associate Professor, National Blood Center, Yangon

| | |
| --- | --- |
| Initiator | AYA Bank |
| Project start | 2011 |
| Status | ongoing |
| Region | Myanmar |
| Contact person | May Myat Thu |
| Awards | - |
| | |
| --- | --- |
| Anti-Corruption | - |
| Business & Peace | - |
| Development | X |
| Environment | X |
| Financial Markets | - |
| Implementing UNGC Principles in your Corporate CSR Management | X |
| Human Rights | - |
| Labour Standards | - |
| Local Networks | X |
| | |
| --- | --- |
| Advocacy of global issues | X |
| Business opportunities in low income communities/countries | - |
| Project funding | - |
| Provision of goods | - |
| Provision of services/personal | - |
| Standards and guidelines development | - |