An industrial firm that concerns itself with nature and biodiversity
The EDF Group's industrial activities sometimes take place in remarkable natural settings. The activities interact with an area's biodiversity and benefit from the ecosystem services it provides. Biodiversity is an important economic consideration for the Group – failure to respect regulations may lead to sites or plants being brought to a halt. A lack of in-depth dialogue with environmental NGOs or other stakeholders using local resources can result in a ban on new industrial programs.

The Group's commitment is structured by its biodiversity policy. Introduced in 2009, the policy is built on three objectives, in line with the Global Reporting Initiative's G4 Sustainability Reporting Guidelines:

develop knowledge of natural environments and the potential impacts of Group activities on ecosystems (G4 indicators EN 11, EN 12 and EN 14);
conserve biodiversity by protecting or restoring natural spaces (G4 indicators EN 13, EN 15 and EU 13);
inform, train, and raise awareness of employees and local residents, and enter into dialogue with scientific communities and non-profit organizations.
This policy is adjusted by the EDF Group's companies and business lines, which implement strategies appropriate to their own activities and local regulations. It is included in the Group's ISO 14001-certified Environmental Management System. In addition, the corporate Sustainable Development Department – in direct liaison with EDF's business lines and the Group's subsidiaries – pursues and guides a policy of biodiversity partnerships to encourage the exchange of technical knowledge, support projects led by non-profits, and implement concrete programs. Examples include work with the French Bird Protection League to put in place plans for managing natural spaces; and with French Nature Reserves (Réserves Naturelles de France) to create training courses in inventory methods. EDF is also working with the French committee of the International Union for Conservation of Nature, which is helping it to take its biodiversity policy further. Along with France's National Natural History Museum, the Group's R&D teams are developing ecological quality indicators.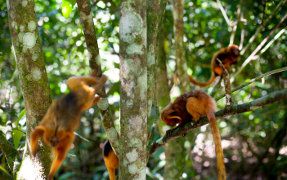 Photo: EDF Group
Recent developments

With its work to conserve biodiversity, the EDF Group is becoming a manager of natural areas, for the most part in partnership with local non-profit organizations. This can happen either as part of offsetting mechanisms or as proactive measures taken on its own.
Through its action, the EDF Group is supporting the rollout of public policies to promote biodiversity:

EDF and distributor ERDF have made a commitment to several National Action Plans for the Pyrenean desman, the Cinereous vulture, the bearded vulture, the European otter, the Zingel asper, and Bonelli's eagle;
the contribution of certain EDF Group sites to the Natura 2000 conservation objectives;
the structuring of an internal program to integrate the recommendations concerning the fight against invasive exotic species and limit the territorial expansion of such species.

"In the work that we're doing with environmental protection networks, we've taken a decisive step forward by moving from sponsorship to partnership. We're no longer supporting these networks by financial means in return for showing our logo, we're working with them with a focus on several subject areas: knowledge, information, and awareness-raising on biodiversity issues. We're working, for example, with the Bird Protection League on protecting the bearded vulture in the Pyrenees. That's led us to adjust the maintenance programs for our high-altitude hydro installations, so as to avoid in particular helicopters flying over the sites during nesting and incubation periods."

MOVING FROM SPONSORSHIP TO PARTNERSHIP

"At EDF, my priority is to make people aware of the issues involved in biodiversity as early as possible in the preparation phases of our industrial projects. And that includes projects that make use of renewables. One of the points I'm hammering home at the moment is to take into account bats in wind and solar projects. The earlier we take this into account for a project, the less we delay putting off action."

Claude Nahon, Senior Vice President, Sustainable Development, EDF Group

When biodiversity protection meets regional economic development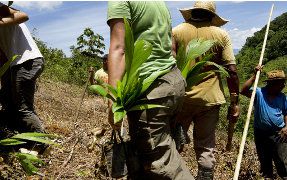 Photo: EDF Group
That is the thinking behind the program led by EDF Norte Fluminense in Brazil in the area around the city of Macaé, where it has a gas-fired electricity-generation plant. For several years now, this EDF Group subsidiary has been voluntarily supporting the Mico Leao Dourado (literally "golden lion tamarin") association to study the behavior of this small monkey, which came close to extinction in the 1970s, and to create forest corridors that allow the animal to expand its living areas. An essential aspect of the program's approach is that local communities (mostly small farmers) are encouraged not to destroy the primary Atlantic rainforest, which has lost 93 percent of its surface area in just a few centuries. This is done by halting the use of pesticides and, better still, restoring new forest areas through regular reforestation operations. The work is paying off – in the REBIO Uniao Biological Reserve alone, where EDF Norte Fluminense and its partner association have focused their efforts, there are today more than 1,600 tamarins.

In these valleys, located about 50 km from the EDF Norte Fluminense plant, the forest is vital to the quantity and quality of the water. The company is supporting economic development here, which focuses on rainforest preservation and promoting green tourism. Small farmers are being encouraged to develop organic farming and tourism: produce fewer items that are of better quality and sell them for a higher price. It was a long process to reassure the farmers and explain the benefits of attracting a new kind of clientele that is more demanding: foreigners from around the world, but also people living in Rio de Janeiro who are increasingly interested in spending their weekends in the mountains, which are just three hours away. These tourists are willing to pay more for healthy products. Support for the programs from the Rio State government also extends to the development of small local companies, whether they are hotels (approved ones); sporting organizations such as for canyoning, paragliding, and cycling; or producers of natural products such as clothes woven from fiber reeds, environmentally-friendly soaps, or production of a very rare honey from the black bee, which is another endemic species and the only bee in the world that does not sting. It produces a liquid honey that cannot be stored, so it must be eaten right away. The ultimate objective of all these actions is to maintain a healthy ecosystem and develop an economic structure that allows residents and their children to stay in the valleys.

Protecting biodiversity at the Vega platform, Italy

The BioVega project was started in 2013 to monitor the state of biodiversity in the vicinity of an offshore oil platform owned by Edison. It consists of five successive macro phases, which will be completed over a two-year period: survey of the species and algae on the jacket and in the waters surrounding the platform; analysis of the flora and fauna; continual monitoring of certain parameters that are vital for biodiversity; installation of special devices capable of creating environments that can host biodiversity; and installation of video cameras to broadcast Vega's biodiversity.

The first part of the project was finalized in 2013. The results have shown that the main inhabitants of the jacket are mollusks, of which there are 17 species present. There are numerous species of fish (for example, Chromis, Black Seabream, Greater Amberjack, Triggerfish) of various classes and sizes. The Vega A platform shows high levels of biodiversity in the area, and as it is an offshore environment (in terms of distance from the coast and depth of water), it is attractive to many species that would not normally be present in this type of environment. The presence of the jacket has enabled the development of a typical community of mollusks, algae, crustaceans, etc., that are needed for the colonization of fish species. It is therefore possible to assume that the platform acts as a fish-attracting device (FAD) for the species found there.

| | |
| --- | --- |
| Initiator | EDF |
| Project start | - |
| Status | ongoing |
| Region | Europe & Latin America |
| Contact person | Jean-Christophe Mollaret |
| Awards | - |
| | |
| --- | --- |
| Anti-Corruption | - |
| Business & Peace | - |
| Development | x |
| Environment | x |
| Financial Markets | - |
| Implementing UNGC Principles in your Corporate CSR Management | - |
| Human Rights | - |
| Labour Standards | - |
| Local Networks | - |
| | |
| --- | --- |
| Advocacy of global issues | - |
| Business opportunities in low income communities/countries | - |
| Project funding | x |
| Provision of goods | - |
| Provision of services/personal | x |
| Standards and guidelines development | - |
Biodiversity-offsetting operator

In France, EDF was selected by the Ministry for Ecology, Sustainable Development and Energy in 2012 to be the biodiversity-offsetting operator for the Combe-Madame project in the Isère administrative department. This experiment is one of the biodiversity-offsetting mechanisms currently being tested in the country. It consists of joint ecological management with local partners and NGOs of 120 hectares belonging to EDF to rehabilitate environments and make it possible to reintroduce remarkable Alpine species. This initiative may enable regional planners to offset the impacts of works on the natural environment.