Buildings Need Effective Air Filters
Air is free and necessary for life. The quality of air also has a direct impact on quality of life: The cleaner the air we breathe, the healthier we are, and the better we feel and perform. Unfortunately, healthy air is becoming a scarce commodity, especially in the larger and more densely populated cities of the world. The most common air pollutants, such as airborne particulate matter (PM), ozone, and nitrogen oxides, are known to cause respiratory problems, heart diseases, and other illnesses. A recent study by the World Health Organization (WHO) suggests that long-term exposure to this air pollution can also affect brain development, reproductive health, circulation, and diabetes.
Europe is an example, where one-third of the people living in cities are exposed to excessive PM concentrations, and one out of six Europeans is said to suffer from a respiratory problem. Air pollution in Europe is estimated to cause more than 400,000 premature deaths annually. On a worldwide basis, the figures are just as grim: Two million people die too early because of exposure to air pollution, according to WHO. Fortunately, governments are responding by reviewing and strengthening air quality strategies based on the latest knowledge and research.

| | |
| --- | --- |
| Anti-Corruption | - |
| Business & Peace | - |
| Development | - |
| Environment | X |
| Financial Markets | - |
| Implementing UNGC Principles in your Corporate CSR Management | - |
| Human Rights | - |
| Labour Standards | - |
| Local Networks | - |
| | |
| --- | --- |
| Advocacy of global issues | X |
| Business opportunities in low income communities/countries | - |
| Project funding | - |
| Provision of goods | - |
| Provision of services/personal | - |
| Standards and guidelines development | - |
But air pollution has a darker side: Polluted outdoor air penetrates the indoor environment through open windows and ventilation systems operating without effective filters, where it mixes with a cocktail of other indoor pollutants that may be present, such as radon, tobacco smoke, volatile organic compounds, and biological pollutants. This is why our indoor air can actually be more seriously polluted – up to 50 times more than outdoor pollution, involving greater health risks for the young, elderly, and chronically ill, especially in urban environments and in areas with heavy vehicle traffic. With people spending up to 90 percent of their lives indoors, we need to think just as much as about indoor air quality (IAQ) as ambient air quality.
Balancing ventilation and energy demands
At the same time as we need cleaner air, governments are focusing on the energy aspects of ventilation as a means to cut the energy consumption of buildings and reduce greenhouse gas emissions. Cleaning air from air pollution in heating, ventilation, and air conditioning (HVAC) systems requires substantial energy and therefore contributes to CO2 emissions related to power production. But ventilation should not be reduced just to save energy, which may compromise IAQ.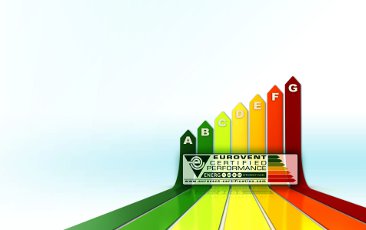 Energy efficiency rating.
Photo: Camfil Farr
In Europe, it is estimated that HVAC systems consume up to 30–40 percent of all energy needed to operate a building. Air filters that consume less energy, are eco-efficient in design, and comply with industry guidelines and standards will cut this consumption directly. A simple measure such as installing quality filters with the lowest average air resistance, and the highest filtration efficiency, can reduce the considerable power appetite of HVAC systems. Quality filters last longer, clean better, save more energy, and do not have to be changed as often. This adds up to a lower total cost of ownership. Good filters provide clean air with economic benefits. Clean air is good for the bottom line of business and society at large.
Sustainable side of air filtration
Camfil offers a full portfolio of air filtration products to protect people, manufacturing processes, and the environment. Over the years, we have focused on driving the air filtration industry toward better standards for product performance and energy efficiency by helping to develop the EN 779:2012 air filter standard, ratified in 2012, and contributing to the Eurovent product certification program for energy labeling of air filters, formally launched in 2012 (but introduced by Camfil for its products already in 2009). These developments are positively impacting the air filter industry and highlight the need for better ventilation systems that consume less power and make buildings greener.
Reducing the power consumption of HVAC systems with energy-efficient filters that also improve IAQ is a practical way to reach two important goals: mitigating climate change and combating the health threats of indoor air pollution. The savings are true and tangible if customers make the right decisions and use the best available air-cleaning solutions. By aligning our business approach and practices to ensure the delivery of eco-efficient solutions, Camfil can help building owners meet emerging energy-performance requirements and comply with building-certification schemes.

Lifecycle costing of air filters
From a long-term perspective, energy consumption is the major overall cost component in an air filter's overall lifecycle cost. Compared with most standard filters on the market, Camfil's products – thanks to their design and filter media – can reduce the operating cost of a ventilation system by more than 20 percent, since the system can operate more efficiently with our filters, which keep their pressure drop low over a longer time and have higher filtration efficiencies to remove more contaminants. Simply described, air-handling units need less power to drive air through Camfil filters.
Calculations with lifecycle cost software document this. Lifecycle thinking for clean-air solutions helps customers lower their operating costs, increase their energy efficiency, and select the right product for the best air quality and lowest total cost of ownership. The software considers filter efficiency, filter life, filter change, labor, filter cost, disposal costs, and allows for varied inputs for all of these factors, plus the largest filter expense: energy usage.

Economic impact of IAQ
In the debate to trim the energy consumption of HVAC systems, Camfil argues that IAQ is a factor that cannot be ignored because it may determine a building's functionality and economics. Without proper filtration and ventilation, substantial IAQ problems can be quite costly in terms of lost work time, lost use of buildings, expensive repairs, legal costs, and bad publicity for the owner.
Further action will be needed – through policies, stricter compliance, continuing measures to reduce pollution, education, and use of the right filtration technology – before everyone can breathe cleaner air indoors and enjoy a healthier life. Educating the public and policymakers through our Road Show initiative in Europe – a traveling mobile air-quality lab and filter-demonstration exhibition – is one way to promote this. We believe it is important for decision-makers and building owners to know that differences in filters impact a building's energy consumption and carbon footprint. But they should also be aware that differences between quality filters and inefficient, low-cost filters also make a difference in the quality of the air that occupants breathe in our increasingly polluted world.


Sustainable Air Filtration
By reducing the energy needs of ventilation systems, Camfil's eco-designed products can make more of a difference for conserving energy and supporting global efforts to fight against climate change.
Camfil Group became a participant of the UN Global Compact initiative in 2009 and reports annually in accordance with the Global Reporting Initiative. We offer sustainable clean-air solutions in the air filtration market and have won numerous awards for our low-energy filters in Europe and the United States. Designing environmental aspects into air filters has been a priority for years. Our products have the lowest energy consumption in all filter classes for air conditioning and ventilation systems. 
Converted into CO2 emission data, air filtration becomes one of the easiest, cheapest, and most available clean technologies for reducing the energy consumption of building ventilation systems while improving IAQ. Fans in air-handling units need an average of 31.5 TWh of energy to move air through filters. If the air filter maintenance market in Europe were to convert to energy-efficient air filters, energy needs would be reduced by a minimum of 10 percent, which is equal to a minimum reduction of 190,000 metric tons of CO2 – the amount emitted by some 610,000 vehicles.

This project description was originally presented in the Global Compact International Yearbook 2013.