Climate Protection Drives Innovation
Climate change is one of the greatest global challenges faced by government, business, and society. It also brings specific opportunities and risks for the transportation and power engineering sectors. The MAN Group is active in both industries and produces trucks, buses, diesel engines, turbomachinery, and special gear units in 13 countries around the world. MAN is thus in a position to make a significant contribution to the reduction of CO2 emissions. At the same time, the company is confronted with the increasingly ambitious CO2 reduction targets set by policymakers and with growing customer expectations – in the transportation sector in particular. 
The MAN Group, headquartered in Munich, Germany, is one of the leading European industrial players in the field of transport-related engineering, with annual revenues of approximately €16.5 billion (2011). Founded in 1758, today the company focuses on the two high-growth areas of commercial vehicles and power engineering. As a producer of trucks, buses, diesel engines, turbomachinery, and special gear units, MAN employs a workforce of approximately 52,500 people at 31 sites worldwide. The MAN Group is aware of the responsibility this entails. As globalization pushes forward and the world's population increases, CO2 emissions continue to rise. While the rapidly growing transportation sector is responsible for approximately 15 percent of global CO2 emissions today, this figure is expected to reach 22 percent by 2020. The energy sector presents a similar picture, with experts predicting that by 2030, global demand will exceed current levels by more than 30 percent.

| | |
| --- | --- |
| Initiator | MAN SE |
| Project start | 2011 |
| Status | ongoing |
| Region | Germany |
| Contact person | Yvonne Benkert |
| Awards | Green Truck award, Blue Angel Label |
Project benefit

Reduced CO2 emissions.

Lower fuel costs, through higher ressources efficiency

| | |
| --- | --- |
| Anti-Corruption | - |
| Business & Peace | - |
| Development | - |
| Environment | X |
| Financial Markets | - |
| Implementing UNGC Principles in your Corporate CSR Management | - |
| Human Rights | - |
| Labour Standards | - |
| Local Networks | - |
| | |
| --- | --- |
| Advocacy of global issues | X |
| Business opportunities in low income communities/countries | - |
| Project funding | - |
| Provision of goods | - |
| Provision of services/personal | - |
| Standards and guidelines development | - |
This has led many countries to set mandatory climate protection targets. At the same time, many European Union member nations are applying increasingly stringent Euro emissions standards for heavy trucks, while the United Nations has issued Tier III standards for marine engines. Low-emission and efficient trucks, buses, turbomachinery, and power plants are essential for compliance with climate protection targets and regulatory requirements. Resource efficiency has long since become a competitive factor.
Climate protection is corporate responsibility
MAN mapped out a clearly defined corporate responsibility strategy in 2010. Encompassing the fields of action of environmental and climate protection, relationships with employees and suppliers, and anticorruption, it is integrated in the corporate and leadership culture at MAN. Its goal is sustainable business success around the globe, with legal compliance representing only one aspect. Increasingly, it is also important to meet the demands of a wide range of stakeholder groups worldwide, which are made more pressing by the progress of globalization.

Core initiatives for implementing MAN's Climate Strategy
By 2020, a 25 percent reduction in CO2 emissions at MAN sites (baseline: 2008): The MAN approach encompasses improved energy efficiency; use of renewable energy sources (solar, wind, geothermal); generation of energy using combined heat and power (CHP) plants; and integrated energymanagement technology and organization.

Consistently Efficient product portfolio: MAN positions itself in the commercial vehicles and power engineering sectors with sustainable products and services.

Customer involvement and dialog: MAN involves its customers and talks to them about ways to reduce the global carbon footprint. After all, many of MAN's customers have already set themselves ambitious targets for cutting CO2 emissions.

Potential for reducing CO2 emissions along the product life cycle: To identify the potential for reductions, MAN measures CO2 emissions along the entire product life cycle.

Climate Strategy management: To manage the implementation of MAN's Climate Strategy, the company has defined KPIs that are regularly measured and published.

The UN Global Compact looks beyond national borders to establish a global framework of values for sustainable business practices. Since the MAN corporate culture is marked by the same principles and objectives, in December 2010 the company became an official participant to the Global Compact, committing itself to the continued support of the Compact's Ten Principles. One of these is preventative environmental protection. This means, for instance, that as we expand our business activities, measures that affect climate change move to the top of the company's agenda.
MAN's Climate Strategy
In late 2011 the Executive Board signed off on MAN's Climate Strategy, which was developed by an internal team of experts. It is now a key component of our corporate responsibility strategy, targeting sustainable value creation and establishing guidelines for product development and resource-efficient production. It also represents MAN's response to feedback from its stakeholders. Our international stakeholder survey, which was conducted in 2011 and received more than 500 responses, showed that 73 percent of the participants regard resource conservation as the most important issue facing MAN, while 61 percent named climate change. The core objective of MAN's Climate Strategy is a 25 percent reduction in CO2 emissions from its own operations by 2020 (baseline: 2008). This represents an annual reduction of 125,000 tons of CO2 – equivalent to the annual emissions of a city of 22,000 inhabitants. To achieve this climate objective, the company is focusing on two areas: resource-efficient products and services, and resource efficiency in production and administration. The company has defined five core initiatives to facilitate the implementation of its Climate Strategy.
Energy management at the MAN sites
MAN's approach to achieving its climate objective at its production sites includes improving energy efficiency and using renewables. In light of rising energy prices, this also makes a significant contribution to improving the cost effectiveness of the facilities. With 31 sites across the globe, MAN must also meet the ambitious climate targets set by the governments of the countries where it operates. In Brazil and China, the aim is to cut CO2 emissions by 36 percent and more by 2020, while India is targeting a CO2 reduction of around 25 percent. Europe is aiming to reduce CO2 emissions by 20 percent compared to 2007 levels by 2020; at the same time, energy consumption is to be cut by 20 percent and the proportion of renewables increased by 20 percent.

Awards
Green Truck:
With the lowest CO2 emissions in the European market, the MAN TGX 18.400 truck received the 2011 Green Truck award.
Blue Angel:
Ten variants of the MAN Lion's City bus received the German Blue Angel eco-label with the additional "protects environment and health" designation.
At all its sites, MAN is therefore improving the energy-management technology and organization of buildings, production shops, and manufacturing facilities. In 2012 the company will analyze the feasibility of using its own MAN combined heat and power (CHP) plants to generate electricity at the sites with the highest energy needs. In addition, in the future all MAN sites will step up their efforts to use renewable energy resources such as geothermal, biomass, wind, and solar. In Changzhou, China, MAN Diesel & Turbo already integrated energy-efficiency measures during the construction of its new production plant. Efficient energy management, effective insulation, and modern, lighter cranes and machinery contribute to energy savings and therefore to reducing the carbon footprint.

A focus on sustainable products
The coming years will see a worldwide increase in the transportation of people and goods as well as in the demand for energy. With its focus on commercial vehicles and power engineering, MAN recognizes that the most effective way for the company to contribute to climate protection is through its products – especially since most MAN products have a very long service life, during which they are used intensively. Well over 90 percent of the environmental impacts that occur over the product lifecycle are generated in the use phase – primarily through the consumption of fuel and energy resources. This is where forward-looking product development comes into play. MAN analyzes all possible means of reducing not only energy consumption, but also other factors such as the use of lubricants. Additional product development criteria include quality, safety, and marketability. Given that the purchase of a MAN product represents a long-term investment, customers tend to look beyond attractive ecological features to costs, quality, and durability.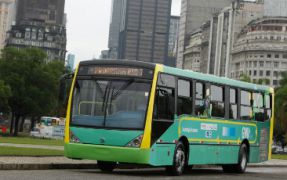 The eco-friendly bus with a natural gas-diesel system can be filled up with a choice of natural gas or diesel.
Photo: MAN Trucks and Bus AG
At the same time, as customers contemplate the long-term aspects of their investment, the total cost of ownership is starting to play an important role in their purchasing decisions. For example, cutting a truck's fuel consumption by 3 liters per 100 kilometers means that if it is driven for 15 years, this will more than pay for the somewhat higher acquisition cost. MAN aims to work systematically to educate not only its managers, but also its sales force and customers about the challenges and opportunities of systematic climate protection.

Consistently efficient and innovative
Innovative transportation and energy solutions are the most effective contribution that MAN can make to climate protection. Consequently, we have not decreased our spending on the development of innovative and eco-friendly products, even in economically challenging times. Far from it – MAN is investing €600 million in a four-year program to increase the transportation efficiency of its trucks. Multiple projects have been launched under this Consistently Efficient initiative. For example, MAN is working to develop highly efficient engines that meet Euro V and Euro VI emissions standards. Presented at the IAA Commercial Vehicles show in 2010, MAN's Concept S study demonstrated additional promising approaches for increasing efficiency. Aerodynamic design will allow trucks to consume up to 25 percent less fuel in the future. 
Our extremely energy-efficient buses with hybrid drives are already on the market. With its standard hybrid drive, the MAN hybrid bus consumes up to 30 percent less fuel, reducing its carbon footprint. In an innovative concept, the braking energy is not only used to drive the vehicle, but is also stored in "ultracaps," which have a faster charging speed than batteries and are more efficient. In its Consistently Efficient Tour, which traveled more than 11,000 kilometers through a number of European countries, MAN showed that consistently efficient trucks can save up to 3 liters of diesel per 100 kilometers over long distances, thus reducing CO2 emissions. This represents almost 10 percent less energy per ton of goods transported – a reduction that is achieved simply by consistently designing vehicles for fuel savings and with proven standard technology. 
MAN has also invested in innovative technologies in the field of power engineering, recently bringing the prototype of a new line of gas turbines to market. A combined CHP plant was installed at the Rheinberg facility of Solvin GmbH & Co KG, representing the first time that the new 6 MW gas turbines have been used commercially. They were developed for industrial use, expanding our existing portfolio in the low-output sector – an attractive growth field due to the increasing decentralization of power generation.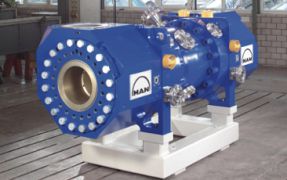 The newly developed 6 MW gas turbine offers outstanding efficiency for its class of well over 30%.
Photo: MAN Trucks and Bus AG
Managing growth responsibly
If resource conservation and energy efficiency were long considered specifically European concerns, this has now changed. Efficient and environmentally compatible technologies are in great demand all over the world. As Dr. Georg Pachta-Reyhofen, Chief Executive Officer of MAN SE, explains: "Particularly in the rapidly growing BRIC markets, the focus on environmentally compatible and climate-friendly solutions has increased dramatically." For example, in August 2011, when MAN Latin America presented its eco-friendly bus with a natural gas-diesel system in Rio de Janeiro, it met with a very positive response.
MAN's efficient solutions in the fields of transportation and power engineering are opening up many opportunities for the Group as a global supplier. Market success, however, will largely depend on customer preferences. Providing clear and substantiated information helps customers decide how best to invest – taking into account not only the purchase price, but the total cost of ownership as well. This calls for an intensive dialog. Another part of the picture is the provision of support in the form of the fuel-saver courses for professional truck drivers, which MAN offers to all its customers, and which are becoming increasingly popular. In 2011 alone, almost 6,000 drivers took part in these training sessions. This enabled them to use around 5 percent less fuel from then on, cutting costs and CO2 emissions. Sixty-nine trainers in more than 25 countries are currently offering these courses through MAN ProfiDrive.