Delivering a Better Tomorrow
As one of the world's largest logistics companies, Deutsche Post DHL has a special responsibility to society and the environment, which is why sustainability is so important to our business. In particular, we are taking concrete measures through our innovative environmental protection program, GoGreen. This is just one of the ways in which we are translating this commitment into action, as part of our efforts to be part of the solution for a better tomorrow.

Because of its potentially devastating impact on the environment, the economy, and humanity, climate change is widely recognized as a critical problem requiring urgent action. All parts of society – and not least, business – are becoming more aware of the urgency and the need to act. In a global survey of 3,600 business customers and consumers worldwide commissioned by Deutsche Post DHL, alongside its Towards Sustainable Logistics study in 2010, climate change was identified as the most pressing challenge facing the world today.

As the first logistics provider to offer carbon-neutral shipping services for our customers, and the first to publicly commit to a quantifiable carbon-efficiency goal, sustainability is part and parcel of how Deutsche Post DHL does business. It is this commitment to be a positive force in the societies in which we operate that motivates our partnership with the United Nations and our steadfast adherence to the UN Global Compact and its Caring for Climate initiative.

Project benefit

Reducing CO2 emissions

Improving CO2 efficiency
| | |
| --- | --- |
| Anti-Corruption | - |
| Business & Peace | - |
| Development | - |
| Environment | X |
| Financial Markets | - |
| Implementing UNGC Principles in your Corporate CSR Management | - |
| Human Rights | - |
| Labour Standards | - |
| Local Networks | - |
| | |
| --- | --- |
| Advocacy of global issues | - |
| Business opportunities in low income communities/countries | - |
| Project funding | - |
| Provision of goods | - |
| Provision of services/personal | X |
| Standards and guidelines development | - |
Greener solutions
As a global logistics provider, Deutsche Post DHL moves goods and information around the world for all types of businesses in every sector of the economy, making it an important force in promoting economic prosperity. At the same time, we acknowledge the responsibility of the logistics industry in mitigating the environmental impact of transport. Moreover, with their unique position and expertise along the entire supply chain, logistics providers can help other industry sectors make progress toward a low-carbon economy.
Through its GoGreen program, Deutsche Post DHL is improving its own CO2 efficiency, thereby making it a key driver for greener logistics solutions for its customers, many of whom have already introduced specific goals to reduce their CO2 emissions. By combining innovative technologies with more environmentally-friendly products and services, we are able to open up new markets and business opportunities for our customers, while helping them achieve their own environmental goals.

Sustainability matters
By 2020, we intend to improve the carbon efficiency of our own transport services and those of our subcontractors by 30 percent compared with the base year 2007 – improvements that, in turn, benefit our business customers' environmental efforts. In fact, we are well ahead of our interim target, having already achieved our 2012 mid-term goal of improving our own carbon efficiency by 10 percent two years in advance, in 2010. Optimized transport routes, modern aircraft, alternative drive vehicles, and energy-efficient warehouses are just some of the ways in which we are reducing climate-damaging CO2 emissions.
To measure our progress, we have integrated carbon accounting into our financial accounting system. The CO2 emissions calculations are based on our fuel and electricity consumption data, which is combined with operations data from the various divisions. This highly accurate method of calculation earned Deutsche Post DHL the "Green Controlling Award" in November 2011, which was conferred for the first time by the Péter Horváth Foundation.

We have taken this approach because we see environmentally friendly and efficient logistics as an opportunity to create value – for the environment, for the company, for our customers, and for our shareholders. At Deutsche Post DHL, we believe that environmental protection and business success are not just compatible – they are closely interlinked. Sustainability is becoming more and more of a competitive advantage, as consumers increasingly consider environmental aspects in their purchasing decisions. The same applies to investors who consult sustainability rankings when looking for viable investment options.
Going Electric
In 2011, DHL Express successfully switched to an all-electric fleet of 30 vehicles to handle its deliveries in downtown Manhattan, New York. This was part of Deutsche Post DHL's global electric-vehicle testing program of 131 electric vehicles in the United States and Germany, to assess their usability in everyday operations. The company is also employing or testing hybrid, propane, and other alternative fuel vehicles, with some 1,500 vehicles in the Deutsche Post DHL fleet powered by alternative methods.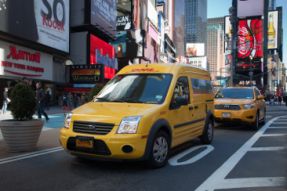 Photo: Deutsche Post DHL
Air Fleet Modernization
The most significant share of Deutsche Post DHL's direct CO2 emissions is generated by its air network. To help shrink this footprint, the company is continually investing in newer, more efficient aircraft that not only burn less fuel, but also generate less noise.
Photo: Deutsche Post DHL
Preparing a sustainable future
Using fuels and other natural resources in a more sustainable way is critical, both for ensuring a better future and enabling the long-term success of Deutsche Post DHL. This focus on the long-term and concern for a sustainable future is also the driving force behind our groundbreaking series of publications called Delivering Tomorrow. With this series, the company is fostering a dialogue on key issues that will shape the world over the coming decades.
The Delivering Tomorrow series was launched in 2009 with an examination of customer expectations in 2020. This Delphi study shed light on pertinent trends in the economy, technology, and society up to the year 2020 and beyond. A year later, we delved into another important development of the future – the shift to more sustainable logistics. The findings showed that the pursuit of sustainability will transform the logistics industry, both in terms of its business model as well as the range of advanced solutions and technologies that will be used by logistics service providers going forward.
We then rounded out the series in 2012 with the logistics 2050 scenario study. This in-depth look into imaginative future scenarios reveals how, while we may not be able to make precise predictions in our interconnected world, thinking about the future can help us anticipate and prepare for change.
Counting Carbon

DHL Express in the United States has launched two new carbon-reporting services for customers looking to monitor and reduce their climate change impact. By expanding its GoGreen Carbon Estimate and GoGreen Carbon Footprint carbon-reporting services to the United States, DHL Express is responding to the growing priority many businesses are putting on being environmentally responsible.
Visionary thinking
What types of trends and developments should we prepare for in the future? Could "green" growth help avoid the climate crash? Will mass consumption prevail everywhere? Will nations cooperate more closely, or will the world become more fragmented and protectionist? Will the drive toward ever-bigger economic efficiency be forsaken for more resilient supply structures? And, what new technologies will deliver the everyday goods of tomorrow?

These are just some of the questions explored in Logistics 2050 – A Scenario Study. Based on astute observations from a large, multidisciplinary range of prominent experts, the study outlines how the world and logistics could change in the next four decades. In presenting alternative visions of the world in 2050, it takes a far-reaching look into the future of trade, business, and society.

More than 40 well-known experts, including Klaus Töpfer – the former German environment minister and former director of the UN Environment Programme – helped develop the futuristic scenarios. The study describes five far-reaching, occasionally radical, versions of life in 2050, and it is complemented by a series of multifaceted essays contemplating various aspects of the future (see the box for more on these).
Of course, in reality, the future will not conform to any one scenario, but may contain elements from all these hypotheses. In this regard, the most important common themes to emerge from among the scenarios are the broadly transformed role of logistics, along with a more prominent role of urban areas and the importance of sustainability topics. In particular, the threat posed by climate change stands out, calling for a responsible approach to the environment as a crucial consideration for shaping the future.
Taking responsibility for tomorrow
In the words of Deutsche Post DHL CEO Frank Appel, "All of us must realize that it is our responsibility today to set the direction for tomorrow and the day after tomorrow."
Logistics have always moved the world and are doing so today in a much more resource-efficient and sustainable manner. Logistics companies are taking responsibility for their actions, while also helping their business customers operate in a more environmentally responsible manner. By taking a proactive role in seeking better alternatives and sparking a dialogue on more environmentally sound business practices, Deutsche Post DHL is upholding the spirit and Principles of the UN Global Compact to help deliver a better world for tomorrow.

Delivering responsibility

Deutsche Post DHL is committed to making a positive contribution to society and the environment. To find out more about its corporate responsibility program, go to: www.dp-dhl.com/en/responsibility.


About Deutsche Post DHL

Deutsche Post DHL is the world's leading mail and logistics services group. Some 475,000 employees in more than 220 countries and territories form a global network focused on service, quality, and sustainability. In 2012, Deutsche Post DHL revenues exceeded €55 billion. The Group operates a fleet of more than 80,000 vehicles – some 1,500 of which are powered by alternative methods – and around 250 dedicated aircraft.
Future imperfect – Five scenarios for the world in 2050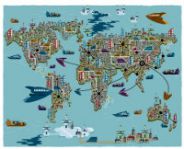 Scenario 1 shows a world that revolves around growth, unchecked materialism, and mass consumption. This unsustainable way of life is fed by the relentless exploitation of resources, which stokes climate change and spurs escalating natural disasters, thus leading to supply chain disruptions.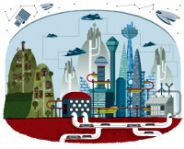 In Scenario 2, sustainable megacities emerge as the world's power centers amidst a paradigm shift to "green" growth, where institutions and companies collaborate to cater for urbanites and create efficient logistics solutions – from underground cargo transport to a sophisticated high-tech infrastructure.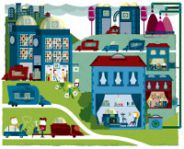 Scenario 3 describes a world where individualization and personalized consumption are pervasive, driven by 3-D printing, leading to a rise in regional trade streams, with only raw materials and data still flowing globally.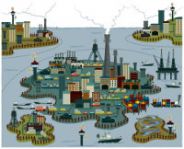 Scenario 4 describes a less rosy world beset by economic hardship, excessive nationalism, and protectionism, leading to international conflicts over resource deposits.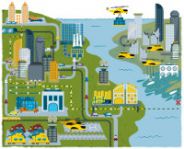 And, in Scenario 5, accelerated climate change results in repeated supply failures and the need to create resilient, regionalized supply structures. The resilient world in 2050 relies on a logistics sector that ensures supply-security as a top priority, with backup infrastructure to guarantee reliable transport in unstable times.
This project description was originally presented in the Global Compact International Yearbook 2013.