The Bayer Climate Program
"I consider climate change to be the most pressing challenge facing the world today," declares Werner Wenning, Chairman of the Board of Management of Bayer AG. "After all, climate change endangers the natural basis of all our commercial and social actions." The consequences for company policy are clear – in this time of global financial and economic crisis in particular, it is crucial that companies set a course that will steer them towards sustainability. This also involves making a clear commitment to climate protection. As part of its comprehensive climate program, Bayer is working to develop solutions across a range of areas that will enable the company to make a contribution to tackling the challenges posed by climate change.

As a co-founder of the UN Global Compact, Bayer AG supports the objectives and principles of this project wholeheartedly and is also committed to pursuing its own initiatives to spread and implement these principles worldwide. One central area of activity is environmental protection. This issue has long been given high priority at Bayer. As a company with international production operations, Bayer believes the judicious use of natural resources is a major part of its corporate social responsibility, along with environmental protection and nature conservation. This is particularly true when it comes to climate protection and tackling climate change.

As an emitter of greenhouse gases, the company is aware that it represents part of the problem. For that reason, the Group took steps early on to implement ongoing improvements in its production processes, introduce new technologies, and opt for efficient combined heat and power generation in the field of energy supply. Between 1990 and 2008, Bayer was able to reduce its worldwide greenhouse gas emissions by 38 percent. In 2008, the company was the only member of the chemical-pharmaceutical industry headquartered in Europe to be included in the Climate Disclosure Leadership Index four times in a row. The Climate Disclosure Leadership Index is the first global index of its kind.

However, Bayer is also part of the solution. Many of the company's products contribute towards cutting energy consumption and therefore CO2 emissions. For example, materials from Bayer are used to provide effective insulation for houses and refrigerators, and to manufacture lighter-weight vehicles with lower levels of consumption. The materials themselves also display good energy credentials – raw materials from Bayerthat are used to manufacture polyurethane for insulation, for example, save more than 70 times the energy needed to produce them in the first place.


Project benefit
Clear commitment to climate protection
Lighthouse projects in the fields of building, agriculture, and production
Further measures: company vehicles, business travel, and IT
Bayer Climate Award and scholarships
Expenditure on climate-related F&E and projects: EUR 1 billion (2009–2010)

| | |
| --- | --- |
| Anti-Corruption | - |
| Business & Peace | - |
| Development | - |
| Environment | x |
| Financial Markets | - |
| Implementing UNGC Principles in your Corporate CSR Management | - |
| Human Rights | - |
| Labour Standards | - |
| Local Networks | - |
| | |
| --- | --- |
| Advocacy of global issues | x |
| Business opportunities in low income communities/countries | - |
| Project funding | - |
| Provision of goods | x |
| Provision of services/personal | x |
| Standards and guidelines development | - |
The first lighthouse projects implemented under the auspices of the Bayer Climate Program are the EcoCommercial Building – a global concept for zero-emissions buildings in the office and industrial sector – the Bayer Climate Check for analyzing and reducing greenhouse gas emissions in industrial production, the development of stress-tolerant plants in the agricultural sector, and activities to encourage the sustainable use of biofuels. This comprehensive program also includes a low-emission fleet of vehicles, increased use of cutting-edge video-conferencing technology to replace the need for business trips, and energy-saving measures in the Group's data centres. In addition, Bayer uses the Bayer Climate Award to recognize the work of outstanding climate researchers and awards scholarships to school students who have demonstrated a particular commitment to climate protection.
The Bayer Climate Program
launched at the end of 2007


first lighthouse projects are the EcoCommercial Building


foundation of the Bayer climate award to recognize the work of outstanding climate researchers


honor of school students who have demonstrated a particular commitment to climate protection with scholarships


Bayer is keen on playing an even more prominent role in addressing the climate issue and pursuing climate protection goals. To that end, the company launched the Bayer Climate Program at the end of 2007. Scheduled to continue for several years, the program clusters the many and varied skills of the subgroups and service companies with the aim of boosting climate protection. From 2008 to 2010, Bayer will invest EUR 1 billion in climate-relevant research and development and various projects.

The EcoCommercial Building
Energy consumption in buildings is responsible for almost 20 percent of global greenhouse emissions. Bayer MaterialScience is focussing on buildings in the office, industrial, and social amenities sector, a field that has remained somewhat neglected up till now. Working in cooperation with partners, the Bayer subgroup has developed the EcoCommercial Building, a brand new concept for zero-emissions buildings. Insulation materials are crucial to this project. Alongside the fact that the EcoCommercial Building generates its own renewable energies, these materials ensure that buildings of this type can fulfil their own energy needs independently – and achieve a CO2-neutral status as an annual average.

What is special about this concept is that it can be adapted to the world's different climate zones. In warm regions, buildings must be insulated against the heat, while in cool regions they must be protected against the cold. Bayer itself is constructing the first EcoCommercial Buildings in two different climate zones. The Group's new administrative premises currently under construction near New Delhi will consume 70 percent less electrical energy than buildings constructed using methods common in this subtropical region of India. Meanwhile, in the more moderate climate of Germany, Bayer is building an emissions-neutral company kindergarten at its Monheim site.

The Bayer Climate Check
Bayer Technology Services developed the Bayer Climate Check with the aim of increasing energy efficiency and reducing greenhouse gas emissions in industrial production. This enables the company to run checks on production sites worldwide to determine their impact on the climate and identify areas where there is potential to cut emissions. The new feature of this tool is that it also includes the pre-production processes – raw materials, energy, and logistics – in the analysis.

Bayer plans to use the Climate Check to examine over 100 production sites worldwide by the end of 2009, thereby recording information on around 85 percent of its greenhouse gas emissions. Steps will then be taken to make full and intelligent use of any potential savings identified. Initial results reveal that the Bayer Climate Check can help the Group to cut its current greenhouse gas emissions by around 10 percent. In addition, the company will also take the Climate Check into account when making decisions on new investments. This new style of climate check is TÜV-certified and will also be made available to other interested companies

Stress-resistant plants and biofuels
Climate change is threatening to further exacerbate issues such as heat and drought that are already reducing the agricultural yield of crops by up to 80 percent. At the same time, the increasing demand for biofuels is leading to competition between energy crops and food crops for the limited amount of land available for cultivation. In an attempt to resolve this issue, Bayer is employing a double-pronged approach.

In one project, researchers from Bayer CropScience are seeking to make plants more resistant to stress factors such as drought, heat, cold, and soil salinity by unlocking the potential offered by biotechnology. The ultimate aim is to safeguard and even increase crop yields. With its other project in this field, Bayer is committed to helping ensure biofuels are used sustainably. To that end, the company is investigating the potential of the jatropha plant as part of a research alliance. This plant is inedible and grows in arid soil that is unsuitable for planting food crops. Consequently, it does not conflict with the production of foodstuffs. However, its seeds comprise 30 percent oil and can therefore be used to make biodiesel.

Saving energy in other ways – company vehicles, business trips, and IT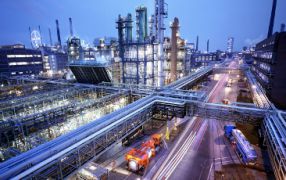 The chemical park in Leverkusen
Photo: Bayer
Bayer aims to cut greenhouse gas emissions from its company vehicles by 20 percent by 2012. In the first year of the climate program, the accelerated introduction of company cars with low-consumption engine technology and alternative drive systems (e.g., hybrid) in 20 countries resulted in a 5 percent reduction in associated greenhouse gas emissions.

Today's cutting-edge video-conferencing technology now offers an appealing alternative form of communication that dispenses with many of the disadvantages of teleconferencing. This technology means it is possible to generate life-size representations of video conference participants, creating a realistic meeting scenario and allowing non-verbal communication. In cases where there is no need for someone to be present in person, these telepresence rooms prevent staff from having to travel long distances to attend meetings. Bayer has set up the first such telepresence rooms equipped with the latest video technology at its Group headquarters in Leverkusen (Germany) and at the Pittsburgh site in the United States. Other key Bayer sites are set to follow suit.

In any large company, IT also offers the potential for making sizeable energy savings. Using a range of measures, Bayer has set itself the task of reducing the energy consumption of its three data centres located at the Group headquarters in Leverkusen and at the sites in Pittsburgh and Singapore also by 20 percent by 2012. This project includes energy-saving concepts for server installation and computer usage, in addition to reductions in paper consumption. To make optimum use of the current of air needed to cool computer chips, for example, computers will be set up in such a way that cold and warm air is kept apart as much as possible.

Bayer is employing two initiatives to promote scientific and social debate on the challenges posed by climate change, and to recognize specific personal achievements made in this area. The Bayer Climate Award is the first international prize for outstanding contributions to fundamental climate science research. The Bayer Science & Education Foundation presented the award for the first time in 2009 in Berlin to Professor emeritus Eberhard Jochem from the Fraunhofer Institute for Systems and Innovation Research in Karlsruhe (Germany). Professor Jochem, who was involved in the Intergovernmental Panel on Climate Change (IPCC) and other projects aimed at developing an international climate policy, was honoured for his pioneering technological and economic contributions to research into energy efficiency. He has demonstrated not only that it is possible to achieve an 80 percent increase in energy efficiency in the industrialized nations before the end of this century, but also that it is an economically viable proposition. The Climate Award has a prize fund of EUR 50,000 and is awarded every two years.

Sustainability Camps organized by independent organizations open up opportunities to gain first-hand information about climate protection and to share views and opinions with other likeminded people. Each year, the Bayer Science & Education Foundation awards scholarships to school students so they can attend these events. In doing so, Bayer recognizes and rewards the dedication shown by the people who themselves are the reason why it is crucial we are proactive in tackling climate change today – the generation of tomorrow.

This project description was originally presented in the Global Compact International Yearbook 2009.