For a Financial Education Culture
Bradesco is committed to its stakeholders' financial education and believes in social transformation through knowledge and awareness fostered by several actions.
Bradesco knows the importance of education and all its aspects. Accordingly, with the mission of being recognized as the best and most efficient financial institution in Brazil – and for promoting banking inclusion and sustainable development – it invests in the development of educational tools and spreading the content it produces by targeting each of its stakeholders.

In 2008, the Bank began to conduct "Credit Municipal Meetings" in small Brazilian towns. The lectures provided the people – most of whom had never had contact with a financial institution before – with basic information. These meetings, which are still being provided by the Bank, have reinforced even more the concepts of responsible credit and personal finance.

Project benefit

Financial education
Good citizenship

Trust strengthening

| | |
| --- | --- |
| Anti-Corruption | - |
| Business & Peace | - |
| Development | - |
| Environment | - |
| Financial Markets | X |
| Implementing UNGC Principles in your Corporate CSR Management | - |
| Human Rights | - |
| Labour Standards | - |
| Local Networks | X |
| | |
| --- | --- |
| Advocacy of global issues | - |
| Business opportunities in low income communities/countries | - |
| Project funding | - |
| Provision of goods | - |
| Provision of services/personal | X |
| Standards and guidelines development | - |
In 2011, a work group was created to focus on financial education and intensify the Bank's investments in training. That same year, the number of people served by courses in personal finance, financial mathematics, and Microsoft Office totaled 600,000 – double the 2010 figure. Since the Bank began providing courses on its home page in 2010, the course materials have been accessed more than 900,000 times.

Important advances in 2012 were made with the creation of a financial education strategy for the organization. This strategy took into consideration the priority stakeholders and their characteristics (employees, customers, and community) and the decision to utilize one language. The strategy went beyond communication and was applied to Bradesco's sustainable inclusion and financial education strategies and models, so that all stakeholders could be aligned regarding social security, insurance, consumption and credit, investments, and citizenship.
Another highlight was the launch of the Responsible Credit hotsite – open to customers and non-customers – and the inclusion of financial education content in network manager courses, with a view to emphasizing the responsibilities of each employee in guiding customers regarding their use of credit.
In 2013, the Portal de Educação Financeira (Financial Education Portal) was launched, which contains all of Bradesco's related actions.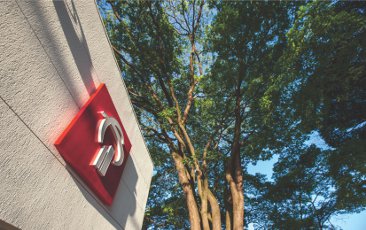 Photo: Bradesco
Inside out
In conjunction with guidance on the responsible use of credit as well as products and services offered to customers, Bradesco's financial education measures include internal training. Personal finance courses and the newly launched Responsible Credit courses are provided through the intranet's training system, named TreiNet, in addition to lecturers on financial education, onsite courses, and training for managers.
Through trained staff, the financial knowledge is spread to other stakeholders: namely, the customers and community. Customers can download software, such as Net Finanças, to support personal or corporate financial management decisions. Net Finanças Pessoais and Net Finanças Prime versions allow for the importing of internet bank account data; accessing graphs and reports on financial situations; controlling investments and credit card expenses; and for understanding Bradesco Corretora's operations and tax calculations. For customers with a University Account, the Bank offers online courses on financial education and other interesting themes. Another tool is the Responsible Credit hotsite that, in addition to offering services and guidelines, allows users to control their household budgets and better utilize their funds.

Certain stakeholders need special attention regarding financial education, such as those in low-income communities. In the cities of São Paulo and Rio de Janeiro, the Bank conducted a number of lectures for nearly a thousand people in 2011 and created a specific booklet on personal finance. The topics of financial education, sustainability, and responsible credit were included in the Credit Municipal Meetings' scope and objectives.
In the first quarter of 2013, a video training on financial education is scheduled to be available for the entire Bank network.

Financial education activities for Bradesco's stakeholders
Lecture on Financial Education and Responsible Credit – Prime and Retail:

2012: 678 people
2013: 20,000 people (estimate)
Lecture on Personal Finance – Departments and Affiliates:

Treinet – Personal Finance:
Treinet – Responsible Credit
Videos on Financial Education (to be launched in 2013)

Unit I – Responsible Credit and Credit Card
Unit II – Opening of Accounts, Consortium, Social Security, Insurance, Investments and Capitalization Bonds

Booklet – Take care of your money:

Lecture on Personal Finance:

2010 to 2012: 10,184 people

Network's strength
Bradesco invests significantly in the organization and availability of online content, videos, and web tools on financial education for individuals and companies. The purpose is to offer didactic, accessible content on financing and related subjects in order to prepare customers to make decision on how to use and manage their money. Thus, much content is included on websites and distributed as follows:
Websites for individuals: Classic, exclusive, prime
Websites for companies: Retail
Content structure on websites for individuals and companies: Financial Situation, My Revenues, My Expenses, My Projects, Financial Products, Responsible Credit, Useful Tools, Further Information, Keeping Up to Date with the Economy.


Click Conta (financial education for children and teenagers)
Click Conta has produced a web series called Antenados, in which children play in the role of two brothers who discuss subjects that are based on certain situations and give tips on financial education.


Bradesco University Account (financial education for youngsters)
The Bradesco University Account has developed the web series Pra toda vida, which helps university students to use money wisely. This is done through content and interactive videos that offer facts and situations of students and their personal finances.

This project description was originally presented in the Global Compact International Yearbook 2013.