Cooperation Between BASF and European Water Partnership on Sustainable Water Management
Water is a vital resource – for both humanity and for the chemical industry. BASF uses water as a coolant, solvent, and cleaning agent, as well as in its products. At the same time, BASF offers its customers solutions that help to purify water, use it more efficiently, and reduce contamination. In order to further develop these solutions, BASF works closely with experts from various fields, while ensuring that the sustainable use of water remains a key priority here.
BASF takes an active role in the European Water Partnership
BASF has been cooperating with the European Water Partnership since 2008. This independent organization was founded at the initiative of the European Commission in 2006 and promotes sustainable water management. Working as partners, water experts from BASF as well as other representatives from industry, governments, and non-governmental organizations developed a European-wide standard that sets out the fundamental principles and criteria for sustainable water management. The result is the European Water Stewardship (EWS) Standard, which enables companies from various sectors as well as agricultural operations to examine how sustainably they use water resources.
With this standard, businesses and agricultural operations can assess and improve their water management based on the criteria of water abstraction volumes, water quality, conservation of biodiversity, and water governance. BASF tested the EWS Standard in 2010 in a six-month pilot experiment at its largest site in Ludwigshafen and made recommendations on how the standard could be improved. The official launch of the EWS Standard took place in Brussels in November 2011 at a ceremony attended by Janez Potočnik, European Commissioner for the Environment.

The application of the EWS Standard has many benefits for companies. They receive a clear picture of their water management because risks – for example, dependency on a single limited water source – and areas for potential improvement are identified. The EWS Standard includes 50 indicators, addressing the four principles of sustainable water abstraction, ensuring good water status, protection of high conservation areas, and equitable water governance. A key aspect of the EWS Standard involves looking beyond the gates of the individual site. By including other users and expanding sustainable water management, the effectiveness of the water stewardship activities is increased.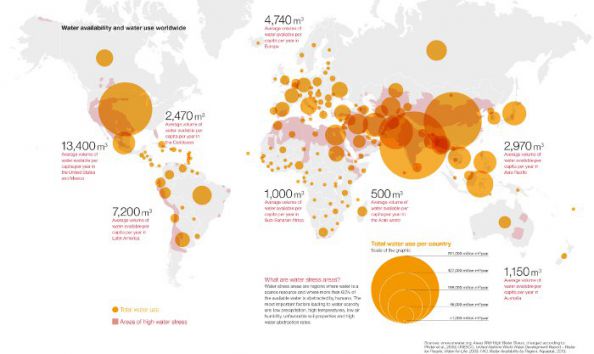 The goal of sustainable water management
BASF has set itself the goal of introducing sustainable water management at its production sites located in water stress areas by 2020. These are regions where more than 60 percent of the available water is abstracted by humans. One in five BASF production sites is located in a water stress area. The EWS Standard provides the basis for the assessment and contains specific guidance for situations where the existing water management system needs to be adapted. BASF introduced this voluntary industrial standard at nearly all of its European sites in water stress areas.

Other BASF goals related to water include reducing the supply of drinking water and reducing emissions to water at production sites worldwide. Compared to the baseline year 2010, BASF has lowered the supply of drinking water by 25.3 percent. Between 2002 and 2013, BASF reduced emissions of organic substances by 78.5 percent, of nitrogen by 86.8 percent, and of heavy metals by 64.2 percent.

Certification for first chemical site
BASF's production site in Tarragona, Spain, demonstrates how sustainable water management can be put into practice. Due to the site's location in a water stress area, Tarragona decided to become the first site to apply the EWS Standard. Experts collected data on water abstraction and release as well as water quality at the site and in the surrounding area. Several questions had to be answered: What is the source of the water? How much water is needed for production? Where does the water flow after being treated in the site's own wastewater treatment facility? Are there any negative effects on the groundwater table or nearby protected areas?

The Tarragona site also uses water treated in the municipal wastewater treatment plant for its production. This reuse of water reduces the amount of water that has to be abstracted from the river, groundwater, and the sea. Investments in closed-circuit cooling systems and the reuse of steam condensate lower the site's water demand. Furthermore, Tarragona has a comprehensive system to monitor water quality in the discharge from its wastewater treatment plant.

In recognition of this sustainable approach to water, in May 2013, BASF became the first chemical company to achieve gold-level certification according to the European Water Stewardship Standard for the Tarragona site. In order to attain this certificate, auditors from the thirdparty certification body TÜV Nord Integra assessed the entire water management performance of the site, from extraction of water at its source to its reintroduction in downstream water bodies.

The cooperatively developed EWS Standard demonstrates how water – a vital resource – can be managed in a way that is socially, economically, and environmentally responsible. With the introduction of sustainable water management, BASF is also making an important contribution to fulfilling its purpose: "We create chemistry for a sustainable future."
| | |
| --- | --- |
| Initiator | BASF |
| Project start | 2010 |
| Status | ongoing |
| Region | Worldwide |
| Contact person | Brigitte Dittrich Kraemer |
| Awards | European Water Stewardship Award |
| | |
| --- | --- |
| Anti-Corruption | - |
| Business & Peace | - |
| Development | X |
| Environment | X |
| Financial Markets | - |
| Implementing UNGC Principles in your Corporate CSR Management | - |
| Human Rights | X |
| Labour Standards | - |
| Local Networks | - |
| | |
| --- | --- |
| Advocacy of global issues | X |
| Business opportunities in low income communities/countries | - |
| Project funding | - |
| Provision of goods | - |
| Provision of services/personal | - |
| Standards and guidelines development | - |