60 Years of Contributing to the Communities
Sixty years of continuous giving that is rooted in the beliefs and values of the founders is what distinguishes CCC and makes it unique among other companies. Even before the term "corporate social responsibility" became quite popular in recent years, the CCC founders put giving and care for the communities, employees, and their families as some of their core values, which they have been practicing throughout the history of the company. Their continuous giving to their communities, employees, and their families has left its mark on the thousands of people who have felt their support throughout the years. Their compassion and philanthropic deeds may have grown out of the hardships they experienced in their early years; however, becoming one of the most affluent companies in the world had just multiplied these humanitarian acts.
CSR is an integral part of the CCC corporate vision
CCC's corporate social responsibility initiative undertakes the role of "corporate citizenship" to ensure that business values and behavior are aligned. They should be balanced between improving and developing the company's business as well as improving the quality of life of its workforce, their families, local communities, and societies at large.

Project benefit

Strengthen local Communities

| | |
| --- | --- |
| Anti-Corruption | - |
| Business & Peace | - |
| Development | X |
| Environment | - |
| Financial Markets | - |
| Implementing UNGC Principles in your Corporate CSR Management | - |
| Human Rights | X |
| Labour Standards | - |
| Local Networks | X |
| | |
| --- | --- |
| Advocacy of global issues | - |
| Business opportunities in low income communities/countries | - |
| Project funding | - |
| Provision of goods | X |
| Provision of services/personal | X |
| Standards and guidelines development | - |
CCC's CSR initiative
CCC's corporate social responsibility philosophy originated from the founders' strong belief that the company has an obligation toward its shareholders, employees, clients, partners, subcontractors, and society. CCC does not exist merely to make a profit, but rather to improve the livelihoods of the more than 120,000 families of its employees, as well as to serve the societies and the countries in which CCC has an operational presence.
CCC's CSR policy is guided by the company's strong and ethical family values and traditions. They are an integral part of its Corporate Vision, which ensures that its business values and behavior are aligned with its Mission Statement; Company Core Values, Guiding Principles, and Code of Practice; Health, Safety, and Environment Procedures; and Human Resources Procedures.

CCC's CSR contributions to the communities
Over the years, CCC has participated and contributed generously to the countries and communities in which CCC has operated and passed through. CCC has engraved its humanitarian and philanthropic footprints in support of social development, health, and education through contributions that have come in the form of monitory donations and in-kind participation. A few examples are: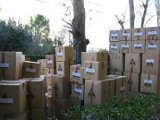 Photo: CCC
In Greece:
It was 36 years ago that CCC moved the managing offices of the Group to Athens, Greece. Over the years, the management and employees have become closely connected to the local communities. In continuation of the CSR initiatives, the CSR Committee in Athens has continued to extend a supporting arm to communities that have been badly affected by the prevailing financial crisis in Greece. The NGOs, charities, and institutions that have benefitted from these campaigns included Medecins Du Monde / Doctors of the World; SOS Children's Village; various municipalities; retirement homes; orphanages; kitchens offering meals for homeless persons; facilities offering shelter for refugees and homeless individuals and families; schools; clinics; and various other needy causes.

The contributions and sponsorships have consisted of providing specific necessities, including – but not limited to – food stuffs; medicines and medical equipment; clothing and blankets; kitchen equipment; blood donation campaigns; PCs and various materials. Generous contributions have also been made to the Greek Association of Women with Breast Cancer.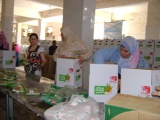 Photo: CCC
In Egypt:
CCC Egypt has provided continuous help to the local communities in Egypt by donating food packages containing basic necessities such as rice, sugar, oil, flour, salt, and dried vegetables to affected communities – mainly daily laborers and their families. These food drives are periodically repeated to cater to the needs of various NGOs, charities, and institutions that fall below the poverty level. Blood donation campaigns are regularly organized to support local hospitals.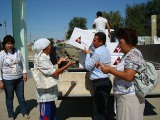 Photo: CCC
In Kazakhstan:
CCC Kazakhstan has set up a program whereby visits are made to different orphanages, retirement homes, and needy communities to provide food packages, clothing, and entertainment for the elderly and orphans on a monthly basis and during national and religious holidays.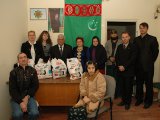 Photo: CCC
In Turkmenistan:
CCC Turkmenistan periodically contributes food packages and clothing to retirement homes, orphanages, and institutions to help support the needs of the local communities.
In Jordan:
CCC Jordan provides regular financial and in-kind contributions and donations to various charities and NGOs, organizes blood donation campaigns, and is a main supporter of the King Hussein Cancer Foundation.
This project description was originally presented in the Global Compact International Yearbook 2013.